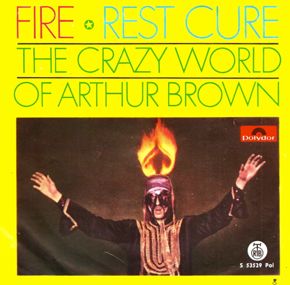 by , Psychedelic Sight.com:
http://psychedelicsight.com/12-fire-arthur-brown/
"You're gonna burn," the seemingly mad singer warned the world.
It wasn't a stretch. This was 1968, and Arthur Brown's prophecy was right in tune with the times.
The violent and twisted events of that year - the Tet Offensive, the King assassination, race riots and the rest of the chaos - played like a fever dream by October, when Brown's single "Fire" found itself at the top of the U.S. pop charts.
The strange but infectious song came by its success honestly, pounding its way out of AM radios and jukeboxes throughout that fall.
"I am the god of hellfire and I bring you fire!" thundered Brown, an unknown singer and performance artist from Britain. Few who heard this shouted-word intro at full volume ever forgot it.
Fire was hot. The airwaves already had been scorched: First, the Doors' "Light My Fire." Then the Jimi Hendrix Experience's "Fire." Both seismic events in the musical world - at the time and in retrospect.
And then came the Crazy World of Arthur Brown and the promise of its debut single, a 3-minute rush of radical rock, fueled by pulsating Hammond organ and horns. Brown's theatrical shrieks, howls and maniacal laughter sold the madness.
"I think it was the surprise of seeing theater in rock at that time,"
Brown says today
of his unlikely stint as a rock star.
Brown performed in make-up, at times wearing a flaming headdress, Iron Man-like mask and outlandish robes. The act caused a sensation on the burgeoning rock festival circuit (one writer said of Brown's shtick: It was "the greatest single spectacle since the Rape of the Sabines").
Brown's two-man band, organist Vincent Crane and drummer Drachen Theaker (replaced later by Carl Palmer) furiously pumped out the sounds without benefit of guitar or bass.
Crane was every bit as essential to the group's success as Brown, exhibiting serious chops in soul, stride piano, jazz and classical.
Pete Townshend, who saw himself as an A&R man for the Who managers' new Track Records, caught the Brown trio at the historic happening
"The Technicolor Dream"
in London, spring of 1967.
The rock opera king associate-produced "Fire" and the rest of
"The Crazy World of Arthur Brown" album
with Who manager Kit Lambert.
The bizarre act fit in with Townshend's self-appointed mission of finding "a stable of eccentric misfits" for the new label, which already had landed the Jimi Hendrix Experience.
And the hitmaking songwriter knew he heard a No. 1 single in the Brown trio's song "Fire," which he recorded at Ryemuse Studio (Pink Floyd, Cream) in Mayfair.
"Fire" was the centerpiece of a side-long, five-track rock operetta once called "Tales From the Neurotic Nights of Hieronymous Anonymous" (now, it's mostly known as "The Fire Suite").
This raises the question of where "Fire" properly begins. Let's say with "Fanfare: Fire Poem," in which our hero Hieronymous begs to be released from some fresh new hell.
Brown raps over a groove-intensive Mose Allison-style riff, flashing back to when he was lying in the grass by a river that suddenly turned into an inferno (note obvious similarity to War's "Spill That Wine" of two years later).
The horrified hero sees "all these shapes being sucked into the flames, writhing and trying to escape."
A giant being invites him to "come on home" before plunging him into hell.
"I am the god of hellfire and I bring you fire!" opens the famous hit, in which the vengeful satanic creature belittles the life of man - "fire - to destroy all you've done … to end all you've become."
Brown says his pal Hendrix helped break the single in the U.S. by taking it around to soul and R&B radio stations.
"They thought I was black," Brown told Mojo magazine recently. "Because I had the make-up and because I was singing in a style that they didn't associate with white singers."
That style would be closer to Little Richard and Screamin' Jay Hawkins than anything emerging from the psychedelic arena. Unfortunately, the roar of "Fire" was followed by radio silence.
The Crazy World of Arthur Brown collapsed as its brilliant organ player was incapacitated by mental health problems.
Brown carried on as an avant-garde rock artist, but the trio classifies as a one-hit wonder these days - "Fire," its self-penned epitaph, still gets play on classic oldies stations.
Fortunately, the band also was survived by a brilliant self-titled LP that ranks No. 16 on this site's list of
classic psychedelic rock albums
. The uninitiated should definitely
come and buy
.
* * * * *
Liner notes
: Brown currently is engaged in a celebration of his hit with the
"45 Years of Fire" tour
that "so far" has been limited to Europe. He's crowd-sourcing his next recording project: "I have at least one more good album in me." Check it out on the psychedelic
Arthur Brown web site
.
Also, enjoy this remarkable day-glo video with his recent
cover of "Kites"
… I caught the original Crazy World of Arthur Brown twice, at the Miami Pop Festival of 1968 and shortly thereafter at War Memorial in Fort Lauderdale, Fla.
The second concert delivered the full Brown spectacle, complete with the singer emerging naked from a giant egg and later singing as the pope. Vincent Crane's keyboard genius on full display. Flame on! Never saw anything like it.