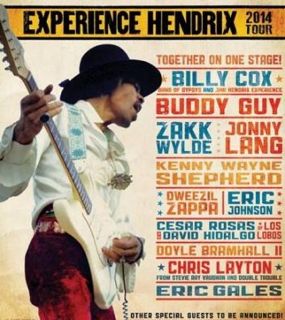 by , Psychedelic Sight:
http://psychedelicsight.com/9658-experience-hendrix/
Billy Cox once again leads the Experience Hendrix Tour on a nationwide swing beginning in March.
The lineup will be familiar, but vibrant nonetheless.
Notable Hendrix tour veterans include Buddy Guy, Kenny Wayne Shepherd, Dweezil Zappa, Jonny Lang, Eric Gales, Eric Johnson, and Cesar Rosas and David Hidalgo of Los Lobos.
Cox, a longtime friend of Jimi Hendrix and a member of
Band of Gypsys
, provides authenticity on bass.
Performers do songs in the spirit of Hendrix, most of them written by the master. The artists get solo spots, sometimes with other billed performers supporting them.
The axemen won't all be stars. Experience Hendrix LLC is running a talent contest with the top prize a slot on the tour, all expenses paid.
Key stops are Dallas (March 11), Chicago (March 14), Buffalo, N.Y. (April 1) and Detroit (April 3). No West Coast dates have been announced.
The Experience Hendrix Tour dates back to the summer of 1995, when the Hendrix family hosted a tribute performance at a Seattle music festival. Three years later the concept morphed into the Jimi Hendrix Electric Guitar Festival, also in Hendrix's hometown of Seattle.
A three-date West Coast tour came in 2004, with Carlos Santana and Paul Rogers among the top-billed performers, and appearances by Hendrix band veterans Billy Cox and Mitch Mitchell.
2007 saw a six-city Experience Hendrix Tour, with Buddy Guy, Robby Krieger, Hubert Sumlin, Robert Randolph and the rhythm section of Cox and Mitchell. Nationwide tours began in 2008.
Other players booked for the 2014 tour so far include Doyle Bramhall II, Chris Layton and Zakk Wylde.
The 2013 guitar competition's jury will be headed by Janie Hendrix (the sister of Jimi) and engineer/ producer Eddie Kramer. Also aboard is Dave Stewart of Eurhythmics fame. The wannabe site
Talenthouse
is handling details.
Would-be stars must submit a video of themselves performing a Hendrix track. The deadline is Jan. 15.
The winner gets to perform a song on the tour. Five runners-up receive some modest swag, including a cheap Strat.
Here's where you can enter the
Hendrix tour competition
.
The Experience Hendrix Tour dates
:
Dallas: Verizon Theater on March 11
St. Louis: Fox Theater on March 13
Chicago: Chicago Theater on March 14
Ames, Iowa: Stephens Auditorium on March 15
Milwaukee: Riverside Theater on March 16
Louisville, Ky.: Whitney Performing Arts Center on March 18
Charleston, W. Va.: Clay Center on March 19
Pittsburgh: Benedum Theater on March 20
Glenside, Penn.: Keswick Theater on March 21
Atlantic City, N.J.: Harrah's Resort on March 22
Wilkes Barre, Pa.: Kirby Performing Arts Center on March 23
Red Bank, N.J.: Count Basie Theater on March 25
Hampton, N.H.: Hampton Beach Casino on March 27
Albany, N.Y.: Palace Theater on March 28
Waterbury, Ct.: Palace Theater on March 29
Washington, D.C.: Lincoln Theater on March 30
Buffalo, N.Y.: Center For Arts on April 1
Northfield, Ohio: Hard Rock Theater on April 2
Detroit: Fox Theater on April 3