by
Edward Helmore
in New York, The Guardian:
http://www.guardian.co.uk
Long-lost footage of journey across America by the author of One Flew Over the Cuckoo's Nest and his Merry Pranksters to spread the word about acid has been turned into a documentary.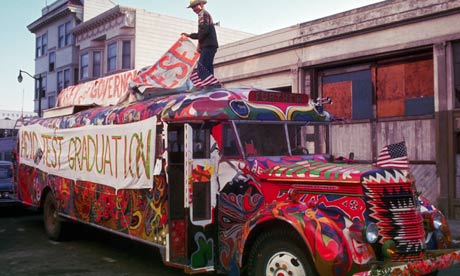 The bus, named Further, which Ken Kesey and the Merry Pranksters drove from California to New York. Photograph: Ted Streshinsky/Corbis
Flush with funds from the success of his debut novel
One Flew Over the Cuckoo's Nest
, Ken Kesey, then 29, drew up plans in 1963 to drive a bus across the US to the World's Fair in New York.
In June 1964, an exotically painted 1939 Harvester school bus rolled out of his ranch in La Honda,
California
. This was to be no ordinary journey. Kesey's Beat Generation associate Neal Cassady - the inspiration for Dean Moriarty in Jack Kerouac's
On the Road
- was driving the bus they called Further.
On board were half a dozen travellers who called themselves the Merry Pranksters and a jar of orange juice laced with LSD. The trip, immortalised in
Tom Wolfe
's book
The Electric Kool-Aid Acid Test
, would become the mythologised starting point of the psychedelic 60s.
"The trip had a dual purpose," said Wolfe. "One was to turn America on to this particular form of enlightenment, the other was to publicise [Kesey's] new book,
Sometimes A Great Notion
. Kesey was a great writer. It was too bad he abandoned writing but I think he meant it when he said, 'I'm tired of waiting for an echo, I want to be a lightning rod'."
The footage shot on the cross-country odyssey was considered unusable and duly forgotten. But in a new
documentary
,
Magic Trip: Ken Kesey's Search for a Kool Place
, released in America last Friday, film-makers Alison Ellwood and Alex Gibney have constructed a coherent film from it.
"It's like watching a fuse being lit," says Gibney, who won an Oscar for
Taxi to the Dark Side
, a 2007 documentary about America's use of torture during interrogation. "The be-ins hadn't happened yet, but you can see they're filled with idealism, playfulness and curiosity. You can see them making it up - or at least Ken Kesey is making it up. He's already myth-making."
The durability of that myth, of course, is rooted in American ideals of freedom. Carolyn Garcia, aka Mountain Girl, the prankster who would later marry Jerry Garcia of the rock band the Grateful Dead, says Kesey felt that a film of the bus trip would spread the gospel of freedom through LSD. "They didn't know they were starting the 60s, obviously, but they knew they had a big secret and they were going to exploit it to the full."
While the bus trip became the stuff of legend, the film record of it languished at Kesey's ranch, rotting and disordered, until Ellwood and Gibney discovered it existed from a
New Yorker
article by former prankster Robert Stone in 2004. The film-makers contacted Kesey's widow and son Zane and struck a deal.
After restoration at the University of California, funded in part by Martin Scorsese's Film Foundation, Ellwood and Gibney set to work. "Considering none of those guys knew how to use cameras, it was pretty amazing when it started to come together," Ellwood says.
Unlike most historical documentaries,
Magic Trip
does not cut away to the reminiscences of ageing participants. Instead, it uses interviews Kesey made a decade after the trip. "It was a way to get on the bus and stay on the bus," says Ellwood.
At the centre of the action is Kesey, a former wrestler and amateur puppeteer who had signed up for research into the effects of LSD. Whereas the LSD-advocating psychologist Timothy Leary (whom the pranksters visited, tripping) gave them a cool reception, believing that it should be restricted to an elite, Kesey wanted the drug - then still legal - to be widely available.
Under the effects of LSD, he had discovered the world was a hole filled with jewellery. It was a vision he wished everyone might share.
To read further, go to:
http://www.guardian.co.uk/film/2011/aug/06/lsd-ken-kesey-pranksters-film