by
Alexis Petridis
, The Guardian:
http://www.guardian.co.uk
Neil Young's marvellously idiosyncratic autobiography, Waging Heavy Peace, rummages through his 50-year career - and offered its writer a relief from music.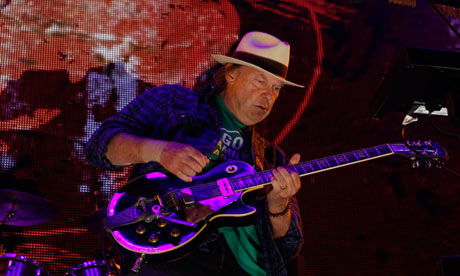 Neil Young with Crazy Horse during Farm Aid 2012 (Photo: Jacqueline Larma/AP)
There are perhaps more relaxing preparations for interviewing
Neil Young
about his autobiography than reading Neil Young's autobiography. It's not that
Waging Heavy Peace
isn't a good book. It is, albeit in a very Neil Young-ish way.
Over the course of its 500 pages, Waging Heavy Peace is variously wildly idiosyncratic, unpredictable, bafflingly digressive, wryly funny, deeply moving, plain-speaking, still in thrall to the mysticism of the late 60s, painfully honest - "do not doubt me in my sincerity," counsels Young at one point, "for it is this which has brought us to each other now" - infuriatingly elusive and shot through with moments of rare insight and beauty, which you might say makes it the perfect literary counterpart to the 50-year career it describes, in a fairly roundabout way.
Anyone hoping for a chronological hop through Young's triumphs - the astonishing run of albums that stretches from 1969's
Everybody Knows This is Nowhere
to 1979's
Rust Never Sleeps
, the supergroup Crosby, Stills, Nash & Young, his early 90s resurgence, borne by the alt-rock scene his music inspired - is going to go home very disappointed indeed.
The main criticism of it is that it has a tendency to ramble, but as fans at Crazy Horse's
recent show in New York's Central Park
would have told you - perhaps as their version of 1991's Love and Only Love entered its 14th minute, with no sign of a conclusion in sight - Young is an artist who has always reserved the right to ramble on a bit.
The problem, at least for the prospective interviewer, and particularly if the interviewer is a huge, hawkish Young fan, comes when you reach the part where Young reveals his feelings about interviews.
"I hate interviews," he offers, fairly unequivocally. Journalists, meanwhile, are "jerks" and "dickheads". He is specifically referring to the journalists from Associated Press present at the infamous mid-80s interview when Young - he of the peace signs on his guitar strap and
the song
about how he never knew a man could tell so many lies until he saw Richard Nixon -
appeared to voice support for Ronald Reagan
.
But you somehow get the feeling it extends to the profession as a whole. Still, at least the prospective interviewer can console himself with the fact that he's not a blogger, by contrast with whom journalists appear to be his favourite people in the world.
Still, crackling down the line from his New York publisher's office, the 66-year-old sounds affable enough. If I never exactly get the impression that talking to me is the highlight of his day, at least it's nothing compared with some of the stories that circulate among quaking hacks who have made his acquaintance over the years.
It might help that I can't see him: Young's eyes apparently have a habit of fixing journalists with a glare that causes them to wake in a cold sweat years after their encounter. "Back in the beginning I was averse to doing press because I'm not really comfortable with reading about myself," he offers.
"It pisses me off that I can't just create art and have the art stand on its own. I would say, hey, if it's a great album it's going to sell … if it sucks, you know, no one's going to buy it. If it's mediocre, some people will buy it, or it could be great and nobody will get it. But it doesn't make any difference what you say about it."
Nevertheless, he says, Waging Heavy Peace isn't intended as a rebuttal, a misunderstood artist setting the facts straight: he professes not to care about the shelfloads of
books that have already been written about him
.
"There's nothing much I can do about it and it doesn't matter to me. I find it of interest just to look at it and go, hey wow, that's something else. What am I going to do with it? I don't know what to do with it."
In fact, the book seems to have very prosaic reasons for existing. "Writing is very convenient, has a low expense and is a great way to pass the time," he tells the reader at one juncture, with admirable candour. "I highly recommend it to any old rocker who is out of cash and doesn't know what to do next."
Young needed the money, because he appears to spend it as fast as he earns it. Not, it should be noted, on rock star fripperies, but on vast, complex non-musical projects about which he talks at length in Waging Heavy Peace: his
Lincvolt
electric car, his inventions for model railways, and his
proprietary music system Pono
, an iPod rival he says delivers perfect studio sound quality.
He had the time because he broke his toe and was unable to play live: "My manager had mentioned that Penguin was interested in me doing my memoirs, but I hadn't thought much about it. But then when I broke my toe I was just sitting there going, what am I gonna do now? I thought: why don't I just do that book?"
To compound matters further, the author of
Homegrown
and
Roll Another Number for the Road
had
given up smoking marijuana and drinking alcohol
on his doctor's advice: he suffered a brain aneurysm in 2005,
the same year his father died
after a long struggle with Alzheimer's.
He says that he had barely written a song in 40 years without smoking weed: according to the book, he had literally never performed with his most celebrated backing band Crazy Horse straight. Waging Heavy Peace is underpinned by a struggle to connect with his muse without the aid of a smoke. Given that he is about to release his second new album this year, it's a struggle he clearly overcame.
Arriving hot on the heels of Americana, which featured Young and Crazy Horse singing the British national anthem, Psychedelic Pill opens with a track that clocks in at nearly 28 minutes: clearly Young's cranky eccentricity has survived sobriety intact.
In Waging Heavy Peace, however, there are moments when Young openly wonders if he'll ever complete another song. "How fucking loose do I have to be to write a song?" he protests at one point.
To read further, go to:
http://www.guardian.co.uk/music/2012/oct/04/neil-young-autobiography-relief-music