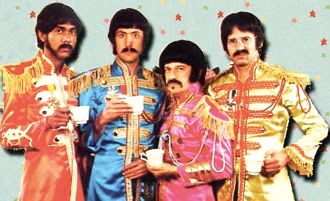 by , Psychedelic Sight:
http://psychedelicsight.com/9554-rutles-bluray/
The Rutles' tragical mystery tour continues - this time rolling out in high def and 5.1 audio.
Eric Idle's faux Fabs return in "The Rutles: Anthology," a Blu-ray/DVD pack that hits these shores Dec. 3.
Included, of course, is "All You Need Is Cash," the original 1978 TV special, which was produced by "SNL" chieftain Lorne Michaels.
The rock mockumentary is widely credited as inspiration for the more ambitious (and more successful) "Spinal Tap."
The title is making its bow in HD and on Blu-ray, sourced from the original film stock. The telefilm last was digitally restored for its 30th anniversary in 2008, followed by a DVD rerelease.
The four
Rutles
were played by Monty Python's Idle, Bonzo Dog Doo-Dah Band comic Neil Innes, Beach Boys veteran Ricky Fataar and drummer John Halsey.
Innes wrote the lion's share of those spiffy Beatles parody songs, such as "Cheese and Onions" ("A Day in the Life"), "Ouch!" ("Help!") and "Piggy in the Middle" ("I Am the Walrus").
He was in the John Lennon role, with Idle as Paul McCartney (who apparently wasn't amused). Idle's pal Harrison plays an interviewer in the 76-minute telefilm.
Other real rock stars going along with the joke in "All You Need Is Cash" - often just called "The Rutles" - include George Harrison, Mick Jagger, Paul Simon, David Bowie and Ron Wood.
John Belushi, Dan Aykroyd and Gilda Radner made the "Saturday Night Live" connection. Bill Murray played Bill Murray the K.
The band originally was introduced by Idle as part of his post-Monty Python BBC2 satire
"Rutland Weekend Television,"
an "SCTV"-like series that co-starred Innes.
Broadway Video's "The Rutles: Anthology" also offers a new interview with Idle, 2004′s sequel "The Rutles 2: Can't Buy Me Lunch" and the original "Rutland Weekend" sketch from "Saturday Night Live" that aired in 1976 when Idle hosted the late-night show.
The package "is remixed and restored to all its glory," the video label says. SonicPool Post Production provided film cleaning, HD formatting and picture restoration for the project.
The Rutles' music of 1978 was collected on "The Rutles" CD in 1990. "Archaeology," a 1996 collection of "outtakes" (new recordings made
without Idle
) was last remastered and re-released in 2007.
"Magical Mystery Tour,"
the Beatles' own experiment in television films, for better or worse, was released on Blu-ray in the summer of 2012.