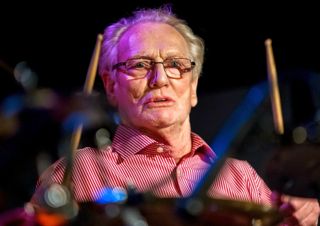 by , Psychedelic Sight:
http://psychedelicsight.com/1122-ginger-baker-jazz/
Even while pounding out the heaviest of psychedelic rock, drummer Ginger Baker touched on his jazz influences - down to the double bass setup he copped from Louie Bellson.
At 74, the drummer of top psychedelic-era bands Cream and Blind Faith has resurfaced with his jazz combo, crossing the U.S. for a half dozen dates in October.
Baker's last high-profile visit to the States came eight years ago, with the
Cream
reunion shows at Madison Square Garden in October 2005.
Ginger Baker's Jazz Confusion brought the drummer back to New York for a gig at the Iridium club. "What you get … is essentially African cross-rhythms through the filter of a pianoless jazz group - or vice versa," the New York Times noted in
its Ginger Baker review
.
"It's not fussy, as the heavy, elegant rhythm rises up. It seems as if the band could set up in a village square almost anywhere in the world and do business."
Jazz Confusion includes the Ghanaian percussionist Abass Dodoo, tenor sax man Pee Wee Ellis (of James Brown fame), and English bassist Alec Dankworth.
In Phoenix
, New Times said of one number: "Magical was how it all came together - like four friends serendipitously meeting on a street corner, at night, under mysterious and perhaps threatening circumstances. …
"Baker was the first drummer to incorporate African percussion dialects in rock music - he performed with Afrobeat founder Fela Kuti as he lived in Nigeria in the early 1970s - and his fascination and openness to exploit these sounds has always carried over into his jazz bands," Glenn BurnSilver wrote in his review of the Oct. 21 show.
Both reviewers made note of Baker's legendary crankiness (he advised talkers in New York to shut up and crabbed about some poorly timed applause in Phoenix).
No wonder the documentary profile of him was dubbed
"Beware of Mr. Baker"
- the title taken from a sign outside his South African residence.
The Jazz Confusion mini-tour wrapped in Seattle and continues in the new year in Europe. Here are several more shots of the New York show, all by music photographer
Arnie Goodman
: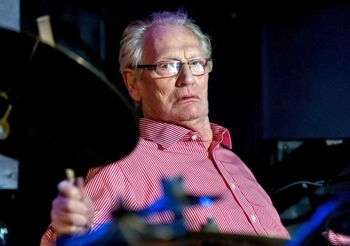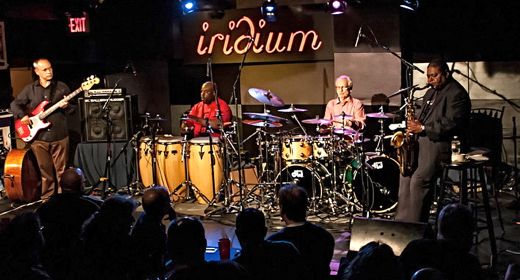 From a 2012 show in the U.K. …