(CNN) - As convicted murder Charles Manson comes up for parole review on Wednesday [Ed: this article was written in April 2012], there continues to be an enduring fascination in Hollywood regarding his crimes.
The murder of pregnant actress Sharon Tate and four others on August 9, 1969, by members of a group known as the Manson Family left a thumbprint on American pop culture that has influenced music, movies and books.
One of the latest projects is the book "Restless Souls: The Sharon Tate Family's Account of Stardom, the Manson Murders, and a Crusade for Justice," written by a woman who has a personal tie with the story.
In March 1990, Alisa Statman was a young film director who had just been accepted into the Director's Guild, the entertainment labor union that represents the interests of film and television directors.
To celebrate, she went house hunting and discovered there was a place for lease at 10050 Cielo Drive, which happened to be the house where the infamous murders occurred. Although it was more than two decades later, as Statman was unloading boxes, someone was filming something at the house.
"The day that I was moving in, there was a supposed producer [on the property]," said Statman, now an assistant director on "Modern Family." "He was taking footage of some of the exterior. I just told him not to film me."
About two weeks later, Statman said she received a letter from that producer, Bill Nelson. Nelson said he was working on a film about the Manson murders and the Tate family, that he had the blessing of Sharon Tate's mother, Doris Tate, and asked if Statman would be interested in helping. "Being in the business and being 21 years old, I was like 'Heck yes, I'd love to do this.' "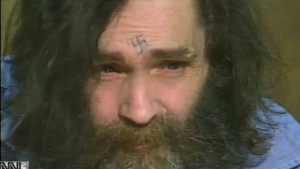 Charles Manson: Up for Parole
From there, Statman said her life was radically altered: On a filming trip, she went with Nelson to the house of a detective who had worked on the Tate case and who had mountains of police reports, photos, "everything imaginable" piled high on a dining room table.
"Within all those pictures, I came across these two little blue boxes," she recalled. "I opened them up and there were pictures of Sharon, Jay Sebring and Wojciech Frykowski, three of the victims. They'd obviously been taken in the last week of her life. She was extremely pregnant. Along with the slides were the negatives. And they obviously had been taken from the house, during the investigation, and never returned to the family".
"I was so angry. He'd been sitting on these photos for years. The second they left the room, I pocketed them, with the intention of returning them to whoever I could find."
That person was Patti Tate, Sharon's sister, and Statman said the pair went on to strike up a romantic relationship. The director said she helped Tate work on an unpublished autobiography and continued to be close to the Tate family after Patti passed away from breast cancer in 2000.
Statman spent the last five years constructing "Restless Souls" using what she said are Patti's unpublished manuscripts, along with the unpublished writings of Sharon and Patti's late parents, Doris and P.J. Tate.
Unlike many memoirs, which are written several decades after the incidents recounted, Doris and P.J. Tate wrote their thoughts while everything that transpired was relatively fresh. The stories within, along with how Statman fell into the Tate family legacy, are yet more fodder for those who remain interested in the tragedy, 40-plus years later.